Hi and welcome to Krazy Crafting Crew's monthly hop! This month we are bringing you frames - altered and spiced up! Just perfect for redecorating for spring. This month our hostess is
Robin at Scrap and Chat
, if you didn't get here by way of Robin's blog please go back so you don't miss any of the fabulous projects this month and to be eligible for the SSS give-a-way.
So here is my 'altered frame'...
This is a floating frame, meaning there are two pieces of glass
with nothing in between. Everything is made with vinyl. The tree with my
family names is on the back glass, and the words "Our Family"
are on the front piece of glass. The names are kind of hard to see
in the picture, but they are on both sides of the tree
on most of the branches.
It will eventually find it's home here on my entryway wall, for this picture
I just replaced a frame I had up there, so the placement is way off, but
I wanted to show you the general idea. I actually need a ladder to re-arrange
all these photos and I didn't have time to get that accomplished yet.
Here is how I created this masterpiece! Using the silhouette design studio software
I simply laid everything out. I did a copy paste of the tree over itself so I could move
the tree with the names off the mat to cut and still have the exact
placement of the names even though I needed to cut the tree
without the names on it also. "Our Family" was made by doing an offset of the original words to make
a small shadow or base layer so that I could cut it it two colors.
I hope you enjoyed my frame, I really enjoyed sharing it with you. Remember to comment on all the blogs today to be eligible to win our group's blog candy.
Our monthly sponsored blog candy is from Scrapbook Stamp Society!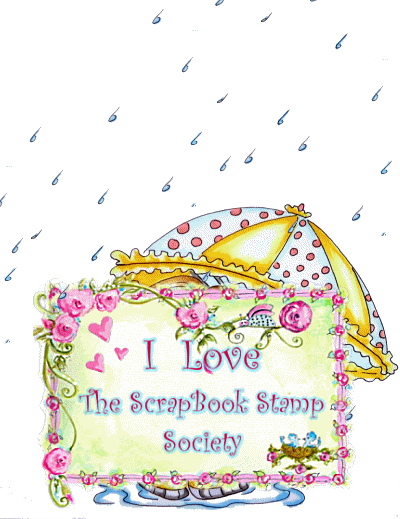 They are giving away 3 sets of stamps to one lucky winner that comments on all blogs
Thanks for stopping by and you're on your way to
Anita's blog!!
Here is the entire line up:
Lissa~ www.somanycrafts.com
Jearise - www.lorbysworld.blogspot.com
Lisa - www.handmadewithlove-lisa.blogspot.com
Thanks for stopping by and happy scrappin!